The medit i500 intraoral scanner delivers: value, efficiency and productivity. Together, these three
qualities make it easy to incorporate the medit scanner into your workflow. Designed with quality in mind,
the Medit i500 was created to add value to your practice. Regardless of specialization the i500 ensures
that professional needs are met, workflows are optimized, and flexibility is guaranteed.
High ROI
An unparalleled performance combined with a competitive price delivers exceptionally fast return on investment.
Impressive Speed
Intelligent scan-detecting algorithm with two high-speed cameras for quick and efficient intraoral scanning.
High Accuracy
Single crown* : Trueness (Accuracy) = 5.1 μm (±0.49 μm) Precision (Consistency) = 3.2 μm (±0.74 μm)
*Single crown accuracy test was conducted by Medit according to the methods in "Evaluation of the Accuracy of Six Intraoral Scanning Devices: An in-vitro Investigation. ADA Professional Product Review 2015".
Flexibility
An open system for integrated CAD/CAM workflow allows for the export of STL files for easy file transfer and thus optimized collaboration.
Powderless
No need for powder in most regular cases, allowing for a seamless scanning process and increased patient comfort.






Small tip
Simpler maneuverability and improved patient comfort while scanning are the advantages of i500's small tip
Single button
No need to reach for the computer as the user can start, stop, and move to the next scanning stage by pressing a single button on the device
High resolution
Easy to locate margin lines and undercuts as well as distinction between tooth structure and soft tissue thanks to realistic high-resolution images
Vivid color
3D full color streaming capture for precise scans and detail-rich images
Video type
3D-in-motion video technology that allows for rapid video-based scans without worrying about choppy results
Lightweight
Our i500 intraoral scanner only weighs 280 grams and is exceptionally easy to hold, making the scanning process comfortable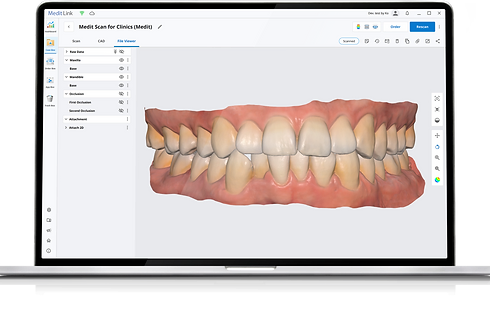 Perfect Software and Hardware Combination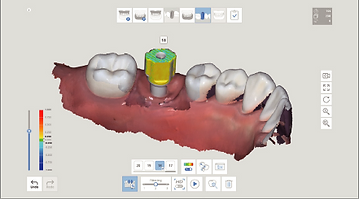 A.I. Abutment & A.I. Scan Body Matching
This function allows you to match scan abutments and scan bodies, thus saving time in instances of poor scanning environments. You can select the appropriate library for your tooth. When you scan the corresponding tooth, the scan abutment and scan body are automatically matched and aligned with the scan data. The aligned library data can be used for downstream work such as design. A manual alignment option is also available.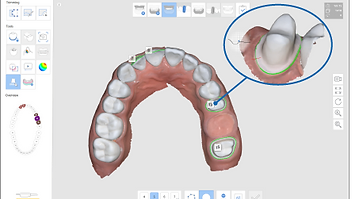 Margin Line Creation
iScan features automatic and manual margin line creation as well as edit functions. While scanning a patient, you can add or edit control points to the prepped teeth scan data in order to draw the most accurate margin line. The created margin lines will be forwarded for more accurate prothesis design and production along with your order.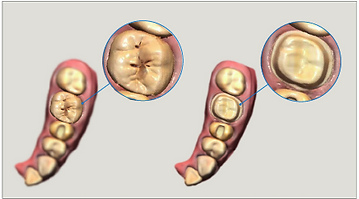 Pre-Operation Scan
You can perform a pre-operation scan of a patient's teeth and utilize this data for a variety of uses. With this pre-operation scan data, the post-operation scan can be performed more quickly and easily. The data can also be used as reference data in the modeling process to assist you in creating more natural prosthesis.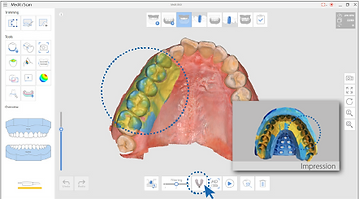 Impression Scan
This function supports composite scanning operations which use both embossed oral scan data and engraved impression scan data. With just a simple scan, both data can be sorted and merged in real-time and used for modeling.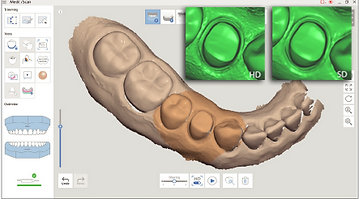 High Resolution Scan
You can select specific parts of the tooth to scan at high resolution. This function allows you to scan in HD only where it is required, enabling efficient management of scan time, data capacity etc. The selected area is displayed in a different color for ease of use.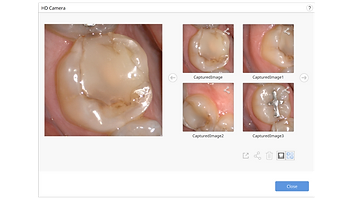 HD Camera
Along with 3D Scan function, this function allows you to use the scanner as intraoral camera to take HD pictures. You can share images with a lab and use them when consulting patients.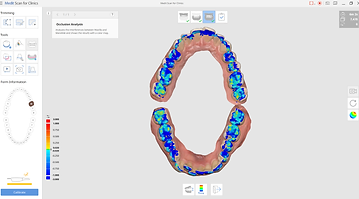 Occlusion Analysis
The occlusion analysis function quickly analyzes the occlusal state of the maxilla and mandible, displaying the results in a color map with numerical values. The color map shows the degree of occlusion in different colors and displays the corresponding values when you move the cursor over each area. You can also check the distance between the prepped tooth and its antagonist.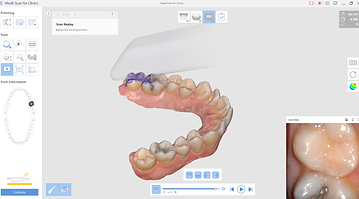 Scan Replay
The scan replay function allows you to replay a previous scan process. By virtually showing the scan tip and scan area, you will be able to see how it was scanned, enabling you to identify and improve your scanning methods or habits.